Providing customers with world-class service and amenities are goals for America's Friendliest Airport, Phoenix Sky Harbor International Airport has opened its new eighth concourse.
The concourse will be used by Southwest and will offer eight additional gates for the airline.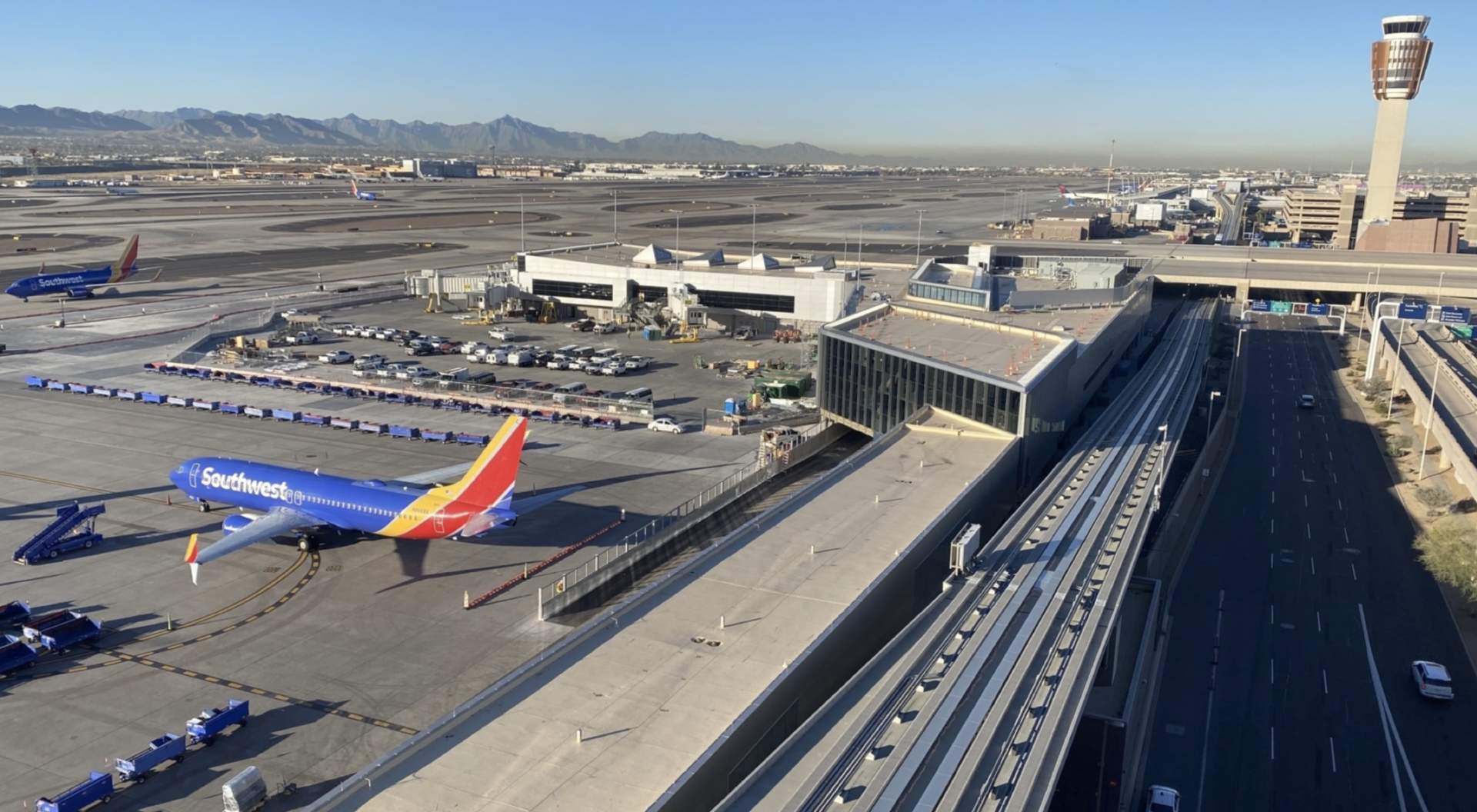 "Phoenix Sky Harbor delivers a $38 billion annual economic impact, and the new concourse is filled with innovations and experiences that travelers will enjoy and remember," said Phoenix Mayor Kate Gallego. "The design of the concourse emphasizes technology, sustainability, and accessibility. Phoenix is showcasing its future-forward progress in a way that matches its status as one of the world's busiest airports for passenger traffic."
"This is our next era in Phoenix, with new gates that bring a greatly improved experience for our Customers and Employees, and gives Southwest room to grow at Sky Harbor," said Bob Jordan, CEO, Southwest Airlines. "Our four-decade partnership with Phoenix continues evolving with larger spaces in the terminal, expanded Maintenance Hangar facility, and strengthening partnerships with local organizations that share our focus on driving economic, environmental, and social impact in Phoenix and across the state."
The new, state-of-the-art eight gate concourse is solely occupied by Southwest Airlines. The 275,000 square foot space features a variety of customer amenities, including access to charging stations in every seat, an Animal Relief Area, Family Restroom, Nursing Room, and hearing loop connectivity which will allow those with hearing devices to connect to the PA system.
Additionally, the concourse will feature new local shops and restaurants as well as a common use airport lounge. Local favorites Pedal Haus Brewery and Berry Divine – Acai Bowls will be in the new concourse as well as regional concepts like Bobby's Burgers and Eegee's as well as national chain Chick-Fil-A. Sip Coffee & Beer will also provide travelers with a number of local products from concepts such as Native Ground Coffee, Mother Road Brewing and Half Moon Empanadas.
"As the busiest terminal in Sky Harbor, I am pleased to see Terminal 4 get a new concourse to meet the ongoing needs of travelers," District 6 Councilman Sal DiCiccio said. "Plus, filling the space with local restaurants and shops solidifies Sky Harbor's reputation of providing world-class service and amenities, while supporting our local economy."


The retail shops will introduce not only national brands at the Uptown Phoenix shop and InMotion Entertainment, but also through a partnership, access to local products from Changing Hands Bookstores, Made Art Boutique and Melrose Pharmacy. AD Partnership will also be opening the Chase Sapphire Lounge by the Club. It will feature 3,500 square feet of space and provide travelers a specially curated menu with a focus on local items.
The shops, restaurants, and lounge will be opening in the coming months, and in the meantime, customers will find food and beverage and retail kiosks.
"Phoenix is fortunate to have a world-class airport that continues to expand and adapt to meet the needs of its customers," District 3 Councilwoman Debra Stark said. "I am excited for the opening of this eighth concourse, and the partnerships with local shops and restaurants that will give visitors a true taste of our great City."
The new concourse also showcases the arts. Phoenix Sky Harbor is no stranger to art -with one of the largest Airport Museum Programs in the country as well as extensive art elements throughout the airport. This new concourse features the 12th terrazzo floor that artists have designed for the Airport's PHX Sky Train system and terminal enhancements over the past 10 years. The immersive, art project consists of a 30' x 300' terrazzo floor and 28 2' x 3' airplane window shaped, terrazzo wall pieces called "Phoenix Lights, Phoenix Rising" designed by artist Susan Logoreci. The floor depicts aerial views of the Phoenix landscape. The new installation provides travelers to opportunity to pause and enjoy something special before or after their flight.
The new concourse, which is applying for LEED Silver Certification, also has a number of sustainable elements. This includes 14,000 square feet of electrochromic glazing throughout the concourse. This intelligent technology provides various levels of tinting depending upon the level of sunlight at any given point during the day and not only helps to keep travelers comfortable, but to improve energy efficiency as well.
"We are dedicated to reducing our carbon footprint and to environmental leadership," said Director of Aviation Services Chad Makovsky. "Sustainability is a focus in all of our operations, and especially with this project. We have diverted 95% of all construction waste from the landfills. A number of features throughout the facility are designed to reduce water use and conserve energy, and we even have incorporated a special ceiling design near the entrance of the concourse made of recycled plastic water bottles."
This baffle ceiling called "The Diamondhead" is inspired by the Imperial Sand Dunes west of Yuma and helps to reduce noise levels and provide a quiet, stress-free environment for passengers.
McCarthy Construction was the general contractor for the project. Other project enhancements include baggage system upgrades for the concourse as well as a connector bridge from the D concourse to the A concourse and consolidated security exit. This more easily helps passengers get between the north and south concourses post-security in Terminal 4.  The $310 million new Terminal 4 Eighth Concourse was paid for with airport revenue. No tax dollars were used.
The concourse welcomed its first arriving and departing flights and passengers on Monday, June 20.