A new 20-story, 55+ community is being built on the Tempe campus at ASU called "Mirabella."
Mirabella is scheduled to be move-in ready by September 2020. The building has 252 homes and more than 50 floor plans.
It also includes a health club with an indoor pool, a performing arts theater, an art studio and four different restaurants.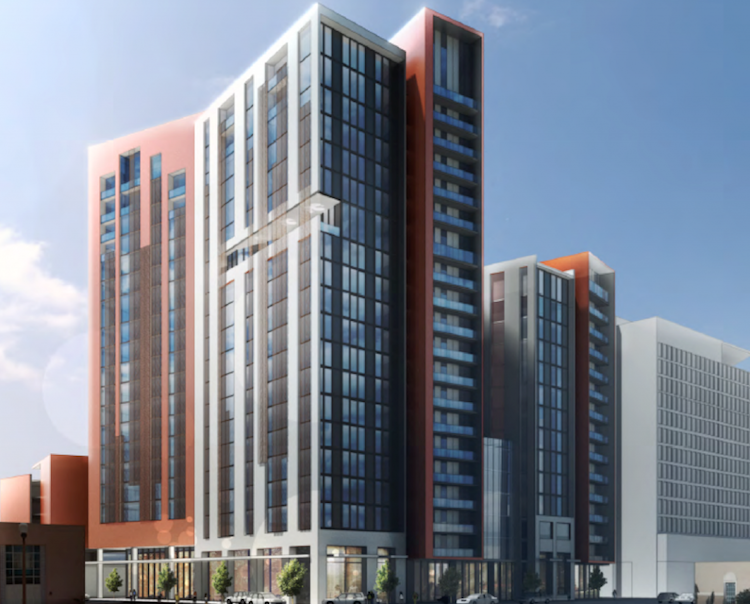 Paul Reipma, the vice president with the development company Pacific Retirement Services, said more than a dozen universities have inquired about Mirabella at ASU.
"If you went across the United States, I don't think you'd find anything like what's going to be built here," said Reipma. "We found people who are looking for these next chapters of life — not to be in some gated community which all they ever see is another person just like themselves. We are finding people who say that's not how I envision my life."
The facility's proximity to the educational opportunities at ASU made Mirabella an easy choice for future residents Tom and Pat Gagen.
"We started reading about this possible tower they would build, and we don't have children. Right away we thought, 'Wow! This could be the right place for us to be as we get older.' Just going to the classes I think seems exciting. Sitting there listening to what young people think of the future because they are the future — and it kind of gives us hope," said Pat Gagen.
Tom Gagen said the ability to customize their new home to his liking was a plus. He and his wife Pat traveled to Oregon to visit similar properties.
"When we looked at some of the other ones, they were just kind of boxy. These are like homes. So, it's very, very nice. We started with a two-bedroom. We figured we really don't want people staying with us that long, so we took out the second bedroom and now we have a big loft area," said Tom Gagen.
Residents at Mirabella will have an ASU student ID card that will allow them to audit classes and have full access to the ASU library. There will also be classes and lectures offered inside Mirabella and sporting and cultural events held on campus and at the nearby Grady Gammage Memorial Auditorium.
"The ASU school of music is practically across the street, and to ASU's credit, they came up with the idea of maybe that would be a good thing for music students to have the chance to perform in front of a live audience at Mirabella," said Reipma.
Mirabella at ASU will also allow residents to participate in a career-mentoring program between residents and graduating seniors, something Lindsey Beagley with ASU said provides value to those young and old.
"Learning doesn't stop after you've gotten your degree. It doesn't stop once you've entered the workplace. And it certainly doesn't stop once you've left the workplace. We are exploring the idea of an artist in residence program, which means student artists or student musicians will be able to occupy one of the units in Mirabella and offer performances throughout the week as part of their rent for their unit," said Beagley.
Reipma said 90% of the homes in Mirabella are reserved. Home prices start at $300,000 for a one-bedroom apartment.
Click here to learn more about Mirabella at ASU.